Our program
Departure time 9:00 - Return time 13:00
Departure from your hotel, arrival in Catania going through the town centre. We will pass by via Etnea, the elegant heart of the city, admiring the botanic garden, Villa Bellini, the roman theatre, University square, and stop and visit of Duomo square. Not distant from here there is the famous fish market, the elefant (landmark), Uzeda gate.
We will return, along the ionian coast where you can see the old lava flows. Ognina, natural port formed by a lava flow, brings us to Cannizzaro, an elegant district on the sea. From here visit of Acicastello and Acitrezza.
Catania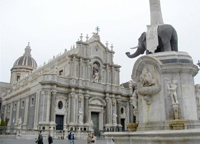 Founded in the late 729 b.c. from the Greeks Chalcidian in a fertil plain at the foot of Mount Etna, Catania boasts a millenary history characterized by many dominations of which the remains enrich its artistic, architectural and cultural heritage.
Many times the lava flows have invaded the city's walls ; the dark color of the monuments, the houses and the gates is the evidence. So the dominant color of the city is black and white, this suggestive contrast is repeated in the symbol of the city symbol, the elefant of piazza Duomo.
The homeland of Vincenzo Bellini and Giovanni Verga is an elegant and busy city, animated by the street markets, famous ones are the fish market and the "A fera o luni". The marked baroque of the historical centre has become World Heritage site.
Acicastello e Acitrezza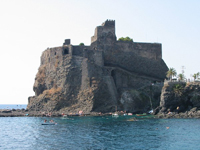 The Cyclops Riviera lies northeast of Catania and stretches for 9 miles along the eastern coast of Sicily encompassing the fishing villages of Acicastello, Acitrezza.
The area is frequented by locals and tourists who are drawn to its views out across the Ionian Sea and a small archipelago of islands including Lachea, and its pretty coastline populated by hand-painted fishing boats in small inlets that makes it an ideal spot to catch the sunset or wander along the seafront eating an ice cream, even in winter. It also attracted Italian film director Luchino Visconti, who shot his Neorealist movie "La Terra Trema" (The Earth Trembles) at Acitrezza in 1948, using local Sicilian-speaking fishermen as actors.