Our program
Departure time 8:00 - Return time 16:00
With our driver, you will go along the ionian coast untill the "Piana di Catania" which introduces you to the city of Syracuse. First stop will be the museum Paolo Orsi; here you can admire the beautiful tresures of the hellenic-roman period.
Following, visit of Ortigia and the Duomo, which in the VII century, was transformed from the temple of Athena in a cristian building. Going ahead through the baroque city of Ortigia, we will arrive to Apollo's temple in which there are constructions of different cultures; then the visit of Fonte Aretusa, a souce of water that had a very important role for the settlement of the first greek colonies. Finally, visit of the archeological parc where there are the greek theatre, Ear of Dionysius, the Latomie, Ara di Ierone, cave Cordari. Optional lunch, and return to your hotel
If you desire you can add to this tour the visit of Noto (two hours more), a little baroque jewel perched on a plateau. Noto was rebuilt after its distruction by the earthquake in 1693, then majestic buildings were made using limestone which has become, after many years, a beautiful golden colour. The most important monuments to visit are the municipal square and the cathedral.
Siracusa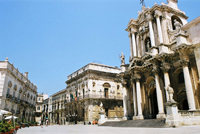 Siracusa, situated in south-eastern Sicily, has its historical center on the island of Ortigia, which is connected to the mainland by several bridges.
Proud of its Greek history, the city also displays traces of its Roman, Norman and Aragonese rulers. Following a devastating earthquake in 1693, Siracusa was rebuilt in the unique and expressive Sicilian Baroque style; in addition to Archimedes tomb, there are several other well-preserved excavations, including a large Greek theater that is still used for performances in the summer months. Near the theater are the Latomie or deep quarries in the limestone bedrock for ancient Siracusa's extensive building activities. The most famous of these is the famous Ear of Dionysius.
Ortigia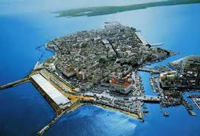 Ortigia is the heart of the city; it is the oldest part of Siracusa and the most distinctive. Filled with artifacts from every stage in Siracusa's long history, its overwhelming feeling is of baroque excess.
Noto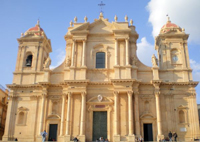 Noto is a pleasant and attractive little town, with a historic centre that is composed almost entirely of crumbling Baroque palaces, churches and houses.
The old town of Noto was almost completely destroyed by the earthquake in 1693 and it was decided to reconstruct a splendid new town several milesaway.