Departure time 7:00 - Return time 20:00
Agrigento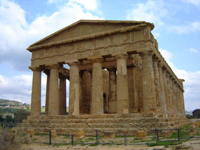 In its ancient history, the city has had four names: κράγας for the Greeks, Agrigentum for the Romans, Gergent for the Arabs; while for the Normans it was Girgenti this was the official name since 1929, then during the fascist period it became Agrigento.
The Valle dei Templi is an archeologic site, from the hellenic period and it is the monumental area of the city, characterized by a good state of preservation and from many important doric temples. Since 1997 the whole archeologic area is part of the Heritage of Humanity.
Agrigento is a popular turistic destination, and one of the most important in Sicily. Valle dei Templi is the biggest archeologic park of the world (1300 hectares).
Selinunte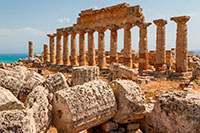 At Selinunte one finds a succession of columns and huge Greek temples surrounded by beautiful green countryside and the turquoise blue of the sea. Selinunte is situated at the mouth of a river where wild celery (selinon) grows and from which was named the town.
Of Greek origin, it is one of the finest archaeological parks in the Mediterranean. Its remains are a fascinating example of Sicilian civilization in the 4th and 5th centuries BC.
Archeological diggings began in 1825 and one can see the Acropolis with its five temples, the Eastern hill with a further three temples, the ancient city with its ring of walls, the Malophoros shrine-dedicated to Malophoros the pomegranate-bearing god and graves of the Necropolis.