Agrigento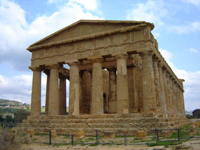 In its ancient history, the city has had four names: κράγας for the Greeks, Agrigentum for the Romans, Gergent for the Arabs; while for the Normans it was Girgenti this was the official name since 1929, then during the fascist period it became Agrigento.
The Valle dei Templi is an archeologic site, from the hellenic period and it is the monumental area of the city, characterized by a good state of preservation and from many important doric temples. Since 1997 the whole archeologic area is part of the Heritage of Humanity.
Agrigento is a popular turistic destination, and one of the most important in Sicily. Valle dei Templi is the biggest archeologic park of the world (1300 hectares).
Scala dei Turchi
We will continue the visit to the main area attraction, "Scala dei Turchi", the white-cliff on which wind and rain carved a natural staircase surrounded by crystal clear waters.