Our program
Departure time 7:00 - Return time 19:00
A couple of hours from Taormina, crossing the centre of Sicily we will arrive in Palermo, along a part of the tyrrhenian coast. Our first stop will be the visit of Monreale's cathedral and abbey, then the centre of the city. From here we will have a plesant walk to the Cappella Palatina, S.Giovanni degli Eremiti, Palazzo dei Normanni, i Quattro Canti, Pretoria square and Bellini square, and the market "Vucciaria", or if you prefer by car. Optional lunch. Return to your hotel.
Palermo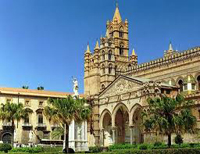 Sicily's regional capital and largest city, Palermo is perhaps best compared to a rough, uncut jewel. Its beauty has to be revealed through careful discovery. You'll find this bustling city chaotic and dusty yet interesting.
The historic environment of this former royal capital of kings and emirs is largely Baroque with some stunning nuggets of medieval architecture. The Norman Palace, with its Byzantine Palatine Chapel (a Monreale in miniature), is built upon Phoenician walls. There are a number of monasteries and castles, and a magnificent cathedral, as well as art galleries and a good archeological museum.
Monreale
Monreale's cathedral and abbey are good reminders that the beauty of a particularly splendid church transcends that of any single work of art, however noble. Overlooking Palermo, the town of Monreale, from the Latin "Mons Regalis" (literally 'Royal Mountain'), straddles a slope of Mount Caputo about eight kilometers south of Palermo's cathedral.
Set at about three hundred metres above sea level, the town overlooks the "Conca d'Oro," as the valley beyond Palermo is known. No extended visit of Palermo is truly complete without a visit to Monreale. The cathedral and its cloister represent the largest concentration of Norman, Arab and Byzantine art in one place.