Our program
Departure time 9:00 - Return time 13:00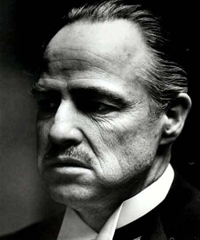 The tour will start from the small but interesting town of Savoca; first thing to see is the "Bar Vitelli", where you can sit down and taste a fresh granita, while thinking that here Michael Corleone asked Apollonia's father for her hand in marriage.
With a short walk through the narrow streets you can enjoy looking at the wedding church where they got married, which name is Santa Lucia. Nothing to do with the films but not less important is the Cappuccini Monastery, which features an impressive collection of same ancient mummified monks.
Forza d'Agrò is the next town to visit, like many of the most charming villages in Italy, it sits on a hill overlooking Taormina and the ionian sea. Going ahead with our tour we will visit Forza d'Agrò, with its beautiful views, the arch Durazzesco and the church Triade another place chosen for a shot of the Godfather. Optional lunch and return.
If you desire, you can add the visit of the "Castello degli Schiavi"(about 2 hours more + entry costs), in Fiumefreddo. The visit is guided by the baron Platania, who will bring you around the internals of the castle, and explain in english some particularities of the film "The Godfather". During the visit he will also offer you a tipical sicilian drink. Do not miss.
Savoca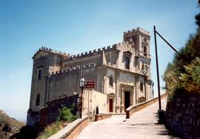 If you are a fan of the famous film "The Godfather" you may be interested to visit the towns where many scenes of the movies were shot. Our tour is exclusive and unique thanks to the good collaboration between our company and the owner of the Castello degli Schiavi, who gives us the possibility to visit his property, where all the saga of the film "The Godfather" was played.
Caracteristic medieval village, Savoca layes on a hill and includes the Cappuccini cloister, where there are some mummified monks and nobles, Vitelli's bar and the chirch Santa Lucia.
Forza d'Agrò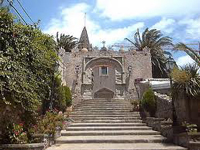 Beautiful little medieval village, Forza d'Agrò, offers a stunning view of the coast and its inlets. Crossing the arch Durazzesco, you get to the church Triade; both the arch and the chirch make a very suggestive background.
Only some ruins are left of the castle built in norman period.
Castello degli schiavi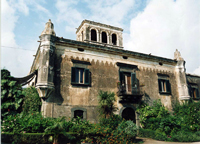 The Castello degli Schiavi is a beautiful sicilian baroque jewel, along Marina way at about 1 km from Diana's square in Fiumefreddo.
The caste is owened by the Family Platania, barons of Santa Lucia. The villa was built between 1750 and 1756, while the roof between the end of 1700 and the begining of 1800.
At the entrance there is a majestic iron door with an arch in lava stone depicting an angry saracene, surmounted by a shell tipical of the best baroque catanese.