Our program
Departure time 8:30 - Return time 16:00
Deperturing from your hotel, we will go along the ionian coast to arrive in the centre of Messina. The monuments left after the earthquakeare very few.The elements of major interest are the Duomo with the square, the fountain Orione and the astronomic clock. In the museum there are some works of Caravaggio.
Along the tyrrenian coast, we can see in the distance the eolian islands. Once arrived to the sanctuary Madonna di Tindari, you can admire the beautiful landscape over Milazzo's Gulf and Marinello's beach. Then we will visit the Basilica della Vergine Nera and then the Greek-Roman Teatre. Optional lunch and return.
Messina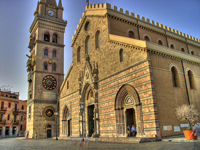 The city of Messina is called also "porta della Sicilia" and anciently Zancle, it rises near the north-east tip of Sicily, on the strait that bears its name. Its port, that is the port for ferries, holds the record for passing passengers and it's sixth for cruise traffic.
Ancient city, Messina reached the top of its greatness between the late Middle Ages and the half of the XVII century, when Palermo was desputing the role of sicilian capital. In 1678 after an anti-spanish rivolt, a devastating earthquake semidestroyed the city, then in 1908 a seaquake razed it on the floor killing 80.000 people. From 1912 it started to be rebuilt, but it never become the same
Tindari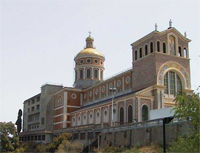 The city was founded by Dionysius from Syracuse, in 396 b.C. as a colony of merchants who had partecipated in the war against Cartagine, and became Tyndaris in honor to Tindaro, king of Sparta. During the first punic war, it was the carthaginian navel base, so in 257 b.C. the battle of Tindari was fighted, in which the roman fleet scared off the carthaginian one. In the first century AD, Tindari suffered the consequencesof a huge landslide, while in the IV century was subjected to two earthquakes. In 535 the city was conquered by the Byzantine and fell in 836 in the Arab's hands who destroyed it.
The sanctuary of Madonna di Tindari was left and enlarged, this hostes a Mary with the child carved in woodand it's considered pledge of grace and miraculous.