Our program
Departure time 9:00 - Return time 13:00
Departure from your hotel, we will start the trip to Taormina, through the beautiful street along the bay of Naxos, where there is the little island "Isolabella" and the view of mount Etna. Once arrived in the town centre, a plesant walk through via Umberto, a street full of shops, will lead to the greek-roman theatre, the english garden, the Duomo, the Naumachie, IX April square, going through the two norman gates.
Now it will be time to go up to Castelmola, which offers a unique view from the norman castle and the Duomo. You can choose to sit in one of the bars and taste the famous "Vinodimandorla". The town has an ancient atmosphere, that makes Castelmola oneof the most beautiful villages in Italy. On the way back we will stop at the Sanctuary "Madonna Rocca".
Taormina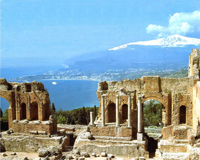 Beautifully layed on a rocky plateau 200 mt. up the sea level, Taormina has a wonderful position overlooking the bay of Naxos and mount Etna. The breathtaking beauty of the landscape and the artistic and cultural heritage, have made Taormina very famous in the world. "Tauromenion" which has been a travel destination since 1700, became touristically developed thanks to many literary and artistic celebrities joining from England and Germany who decided to build villas and to stay for long periods in the city, abandoned to their "voyieurismo", decanting the natural beauties and advertising it in the whole world.
The visit of the town will take you back in time and will let you feel the scents of history. Very important is the visit of the greek roman theatre.
Castelmola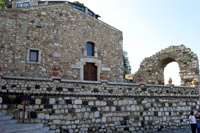 This little town perched behind Taormina, is classified one of the most beautiful borgos of Italy. With its panoramic position , it 's developed around the delightful piazzetta del Duomo; from here you can see many narrow streets. From different spots, in particular from the piazza S.Antonio, you can enjoy a beautiful panorama of mount Etna and the beaches that extend to Taormina's feet.
On the right of the same piazza there is a staircase which brings you to the ruins of a norman castle, where there are still walls from 1500, here there is a beautiful view of the two mountains Venere and Ziretto.
The production of a liqueur almond wine is tipical of Castelmola , many inhabitants say that they are the inventors of it.