Our program
Departure time 9:00 - Return time 15:00
Leaving from your hotel, we will start a plesant tour to the volcano Etna along the ionian coast. We will pass the towns of S.Venerina and Zafferana, going through the "Parco dell'Etna" with its enchancting nature and beautiful view of the east sicilian coast.
We will get, after about 1 hour drive, to the craters "Silvestri" at 2000 mt, where there is an interesting volcan formation. From here you will choose to go up the summit craters, by cableway, or admire the different old lava flows by a plesant walk, and perhaps tasting some typical local product. On our way back, we will stop at a local winery, where you will taste typical products, accompanied by the famous "Etna doc" wine.
Etna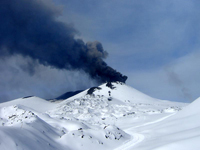 Mount Etna is an active volcano on the east coast of Sicily, close to Messina and Catania. It is the highest active volcano in Europe, currently standing 3,329 m (10,922 ft) high, though this varies with summit eruptions; the mountain is 21 m (69 ft) higher than it was in 1981. It is the highest mountain in Italy south of the Alps. Etna covers an area of 1,190 km² (460 sq mi) with a basal circumference of 140 km. This makes it by far the largest of the three active volcanoes in Italy, being about two and a half times the height of the next largest, Mount Vesuvius.
In Greek Mythology, the deadly monster Typhon was trapped under this mountain by Zeus, the god of the sky, and the forges of Hephaestus were said to also be located underneath it. Mount Etna is one of the most active volcanoes in the world and is in an almost constant state of activity. The fertile volcanic soils support extensive agriculture, with wineyards and orchards spread across the lower slopes of the mountain and the broad Plain of Catania to the south.