Segesta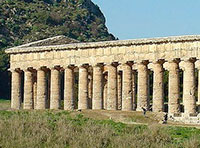 Segesta is situated on Mount Barbaro overlooking a picturesque valley and was, alonside Erice, one of the most important cities for the Elymians. Legend says that the name derives from the nymph Egesta who gave hospitality to Aeneas during his wanderings.
Here you can see the Doric temple (dating from the 5th century BC), the Greek theatre (2nd century BC), an Elymian shrine and recent excavations which have revealed the remains of an ancient town.
Erice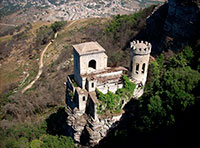 On the summit of Mount San Giuliano, high in the sky, sits the town of Erice, which has breathtaking views of the province of Trapani. Erice was once inhabited by the Elymians, who built a temple dedicated to the worship of the goddess of fertility and love. The invaders which followed used this building to revere their own deities: Astarte for the Carthaginians, Aphrodite for the Greeks and Venus Erycina for the Romans. On the ruins of this temple is situated the Castello di Venere (Castle of Venus), which was fortified during the rule of the Normans. The Giardini del Balio are found beside the castle, overlooked by medieval towers.
Erice is surrounded by Cyclopean walls, which date from around the 8th BC. At its corners are found the Norman castle, the Spanish quarter and the Cathedral. Erice has over 60 churches and the Centro di Cultura Scientifica Ettore Maiorana where one can find characteristic arts and crafts.