Our program
Departure time 9:00 - Return time 13:00
Starting from your hotel, we will go along the road that joins Naxos to the Alcantara Valley. Our first stop will be at the Alcantara Gorges, a wonderful natural canyon, where you can admire majesty of the river that flows through the lava stone. Going ahead in the valley, we will visit the little village Motta Camastra, layed on a rock at 453 m of altitude.
Going to Castiglione di Sicilia we will pass through the village Francavilla di Sicilia. The name Castiglione comes from "Castel Leone ", a castle which dominates the town from up above. From here there is a fantastic view of mount Etna. The most important monuments are the chirches S.Antonio, S.Pietro and a square enclosed by ancient walls from XVII century.
Along the way to Mojo Alcantara we will see the ruins of a bizantine chirch from VII-VIII century. On the way back, we raccomand a typical sicilian lunch in a famous local restaurant.
Alcantara valley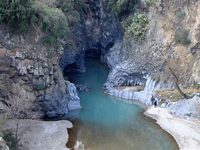 Across the Alcantara Valley overhangs Mount Etna, while along the road that offers beautiful landscapes, and characteristic villages that will brings you back in the past.
The Alcantara is a river, It has its source on the south side of Monti Nebrodi and its mouth in the Ionian sea. The river is 52 km (32 mi) long. The name Alcantara is of Arabic origin (Arabic: al-Qantarah, 'the Bridge') and refers to a bridge from Roman times, found by the Arabs. The Alcantara has its source at an altitude of 1250 m in the municipality of Floresta. On its way to the sea, past the north of Mount Etna, it flows through Randazzo, Mojo Alcantara, Castiglione, Motta Camastra, Taormina and Giardini Naxos. Several thousand years ago, the river bed was blocked by a lava flow from Mount Etna. As the lava was cooled much more quickly by the water than it would have done otherwise, it crystallised in the form of columns. Over the next millennia, the river naturally eroded a channel through these columns, resulting in impressive gorges and ravines such as the "Gole d'Alcantara", very famos destination reached by thousands of turists every year.