Our program
Departure time 7:00 - Return time 19:00
A few hours from Taormina, going through Catania's piana, we will arrive to Piazza Armerina, a majestic town behind Enna. Crossing the centre there is the Duomo and some chirches from the eighteenth century built in tuff stone. At the foot of the city there are the ruins of the Villa Romana. We will need about two hours for the visit. Optional lunch and departure to Agrigento. Crossing some rural villages, the rout will be very interesting.
Once arrived at the Valle dei Templi, you will have a nice walk through the archeologic parc, which assumes a golden colour at sunset. Later, we will visit the Archeologic Museum, hosted in the ancient monastery of S.Nicola.
Agrigento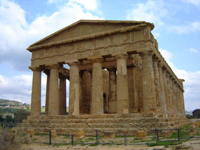 In its ancient history, the city has had four names: κράγας for the Greeks, Agrigentum for the Romans, Gergent for the Arabs; while for the Normans it was Girgenti this was the official name since 1929, then during the fascist period it became Agrigento.
The Valle dei Templi is an archeologic site, from the hellenic period and it is the monumental area of the city, characterized by a good state of preservation and from many important doric temples. Since 1997 the whole archeologic area is part of the Heritage of Humanity.
Agrigento is a popular turistic destination, and one of the most important in Sicily. Valle dei Templi is the biggest archeologic parc of the world (1300 hectares).
Piazza Armerina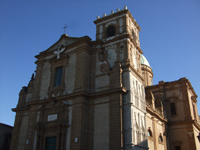 It's assumed that the first civilization in the territory of Piazza Armerina was the Greek one. As a matter of fact there are some sites from that period. About the history of the city, it is known with certainty just of the Norman domination and on.
This city is famous especially for the beautiful Villa Romana del Casale, at the foot of the city, which owes its fame at the floor built entirely in mosaic that depicts mithologic.